This post may contain affiliate links. Disclosure here.
These 7 winter wellness essentials will help you learn to thrive with the seasonal changes.
Being the summer baby that I am, I often struggle throughout the autumn and winter seasons.
With the colder weather and the shorter days I have to put in extra effort to take care of myself.
Putting my wellbeing first is one of the ways I practise self care.
These are my top 7 winter wellness essentials that have helped me year after year.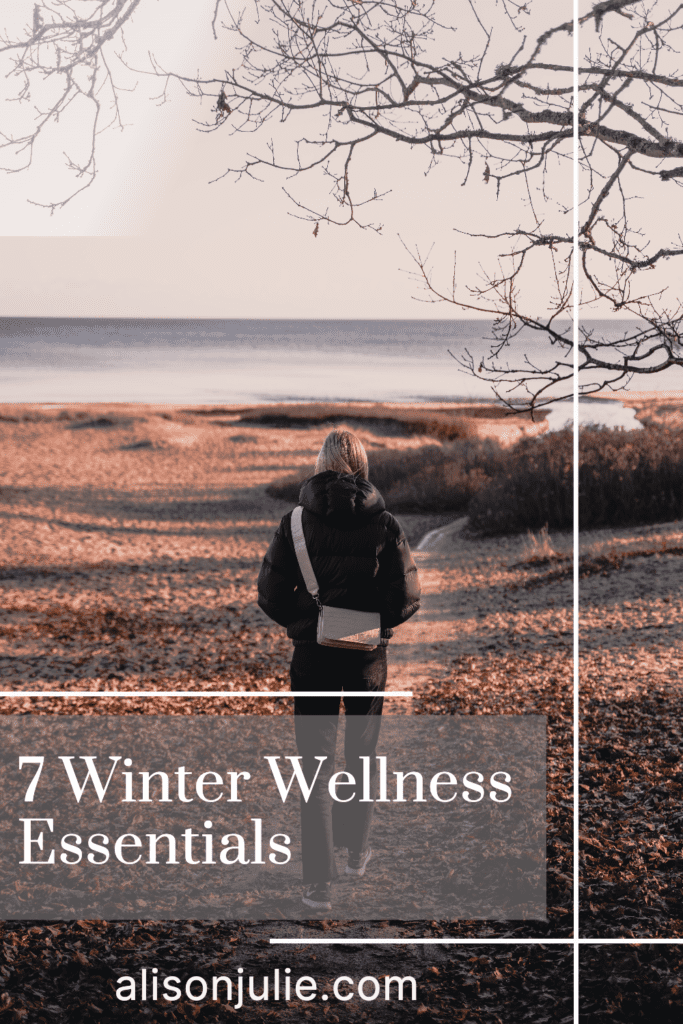 1. Nature Walks
Walking has so many incredible health benefits from mental health to physical and emotional health.
It is one of the simplest forms of exercise, it is low impact and helps provide us with a greater sense of wellbeing.
Interestingly enough the pace at which we walk hasn't shown to differ much in the resulting health benefits.
A fast paced walk has been shown to deliver the same great benefits as a moderate or slower paced walk.
The physical health benefits include increased muscle and bone strength, it boosts our immune system, and helps to lower high blood pressure and cholesterol.
Getting outside in nature helps to calm our nervous systems providing huge benefits to our mental health.
It can help to inspire us creatively and imaginatively.
Walking outside can help to lower our stress and anxiety levels and encourage us to be more mindful and present.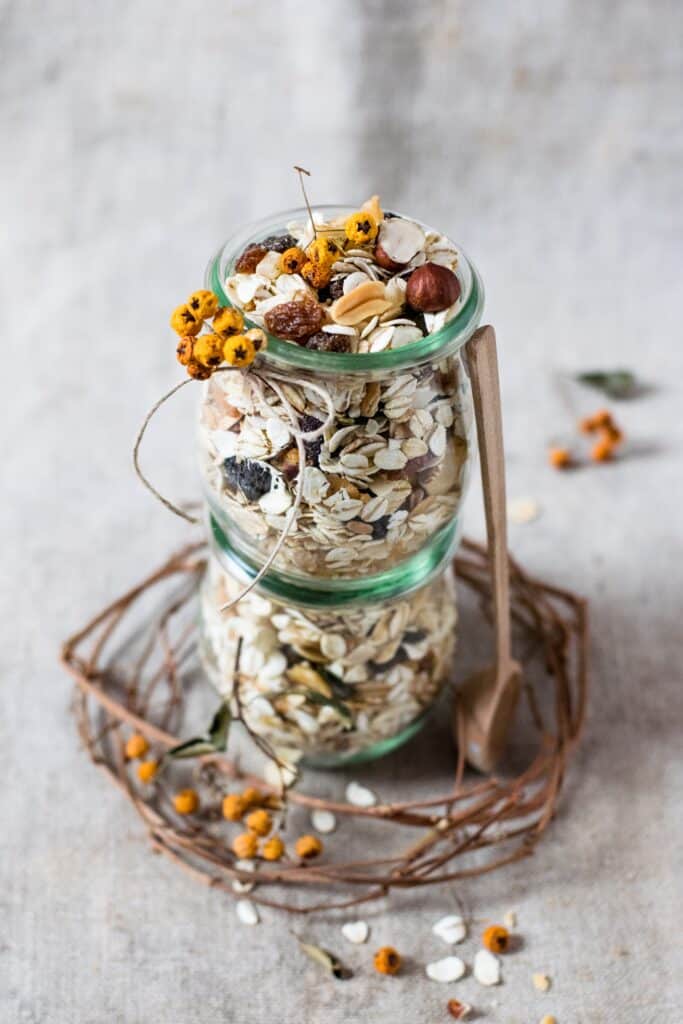 2. Seasonal Eating For Winter Wellness
Eating seasonally means eating foods that are naturally in harvest in the current time of year.
There are so many benefits to eating seasonal food, everything from taste to nutrition.
Foods that are harvested in season have been allowed to fully develop.
This means that they are full of flavour, packed with nutrients and have a much better texture to them.
Not only that, foods that are in season are generally cheaper too as they haven't needed to be imported from elsewhere.
This means that eating locally will not only be better for you and for the environment, but also help to support local harvesters.
My favourite ways of eating seasonally it to batch cook warming curries and hearty soups.
I also love to add berries to my morning porridge.
If you are looking for recipes for any left over pumpkins you might have then check out my Sweet & Spicy Pumpkin Soup.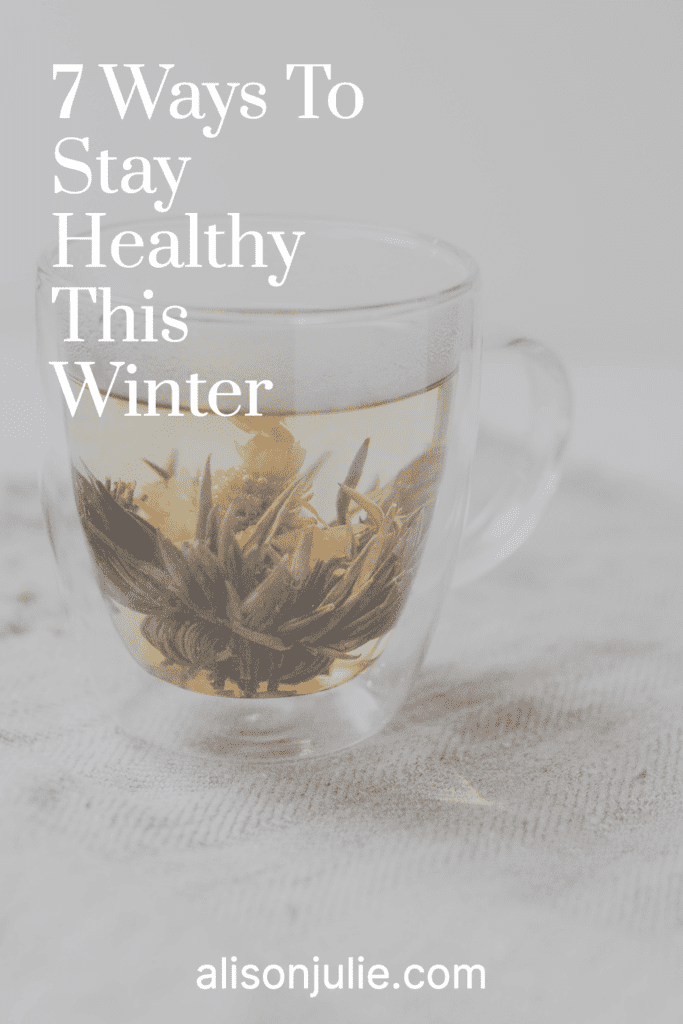 3. Keep Well Hydrated
Keeping hydrated might seem like a very obvious way to help you stay healthy, however it's often over looked throughout the colder months.
We often associate drinking plenty of water with spring and summer when we are generally feeling much warmer and are more active.
However, it's so important to stay hydrated during autumn and winter as we are more exposed to varying temperatures.
We can often go from being very cold outside to being overly warm inside.
Central heating can be a big cause of dry skin and it often drys the air out around us.
Due to this our skin can dry out much quicker and even become cracked in places such as lips and hands.
It's important to make sure you are having plenty of fluids wether it be a glasses of water or warming herbal teas.
If your skin is feeling the effects of the weather then use plenty of moisturiser and lip balm to prevent it from feeling sore or cracking.
I always keep well stocked with body moisturiser, hand creams and lip balm during the colder seasons as my skin tends to dry out quite easily.
My all time favourite rescue remedy for dry hands is the ESPA Rejuvinating Hand Cream.
It works so well to hydrate the skin and soaks in very quickly without leaving any greasy feeling.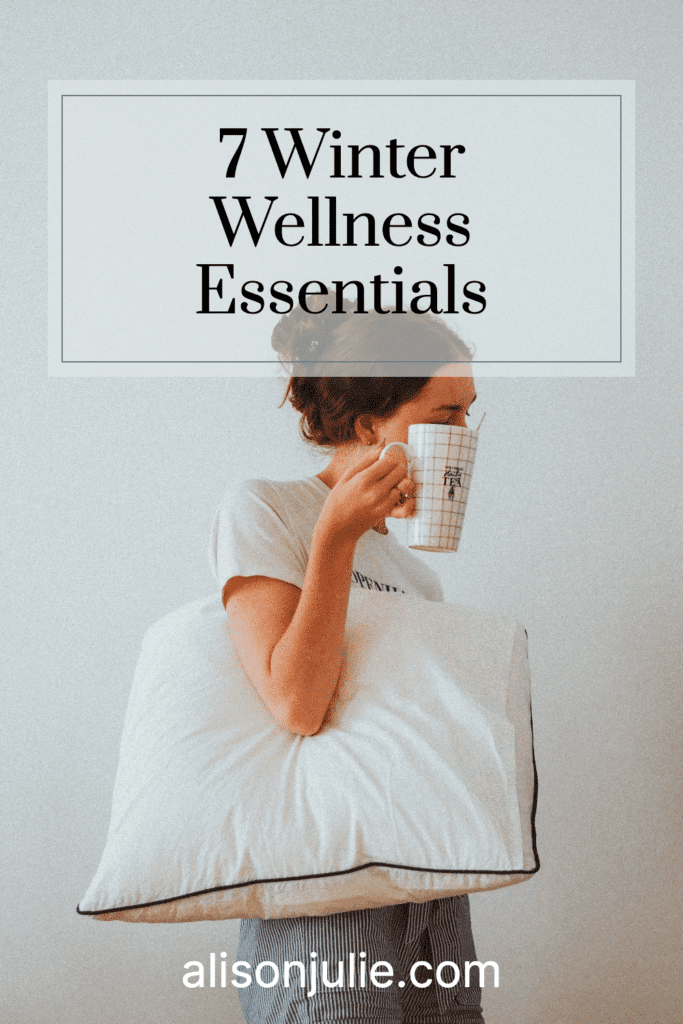 4. Get Extra Sleep
Good quality sleep is so important for our health in general but also one of the essentials for winter wellness.
However it is even more important during Autumn/Winter when our bodies are working harder and using more energy to keep us warm.
I often feel more tired during this season and so early nights become a regular occurrence.
With the days feeling much shorter and the nights feeling so much longer it really does help to get plenty of early nights in.
This will allow your body the rest it needs to help keep you fit, healthy and well throughout the following months.
If you want to learn more about how to get a great night's sleep, check out my post here where I give you my top tips for better sleep.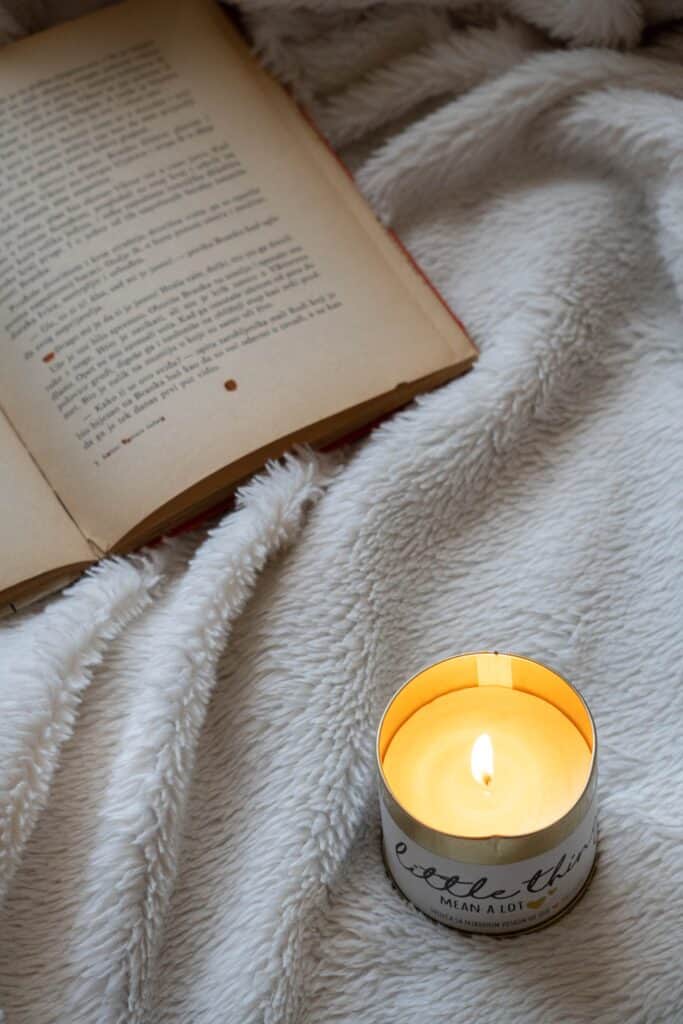 5. Warm Up Your Wardrobe & Home
Clothing
Good quality thermals are essential during the cold weather.
Particularly for anyone who might be more vunererable to the cold such as elderly people or young babies/children.
I love having multiple sets of thermals including long sleeve tops and tights/leggings.
My thermal clothing collection grows every year and I honestly class these as my ultimate essentials for winter wellness.
My favourite thermal recommendations are the Heatgen Plus Top and Heatgen Plus Leggings from Marks & Spencer.
These are always my go to whenever I need new thermals as they are such amazing quality and last for years!
Another way to bring warmth to your wardrobe is in your shoes.
I recently bought some faux fur lined inner soles for my boots and I'm so impressed with the difference they have made.
If you like to keep your feet cosy and warm too I really recommend getting some.
Warm Cosy Home
This year I've also upgraded my bedding to a luxurious teddy fleece set and I cannot stress enough how cosy it feels!
If like me you love to be warm and cosy in bed I highly recommend getting a teddy fleece bedding set.
There are so many to choose from at the moment as with the cost of living crisis we are all looking for alternatives to central heating.
The set I bought was this one from Online Home Shop which was great value for money: Brentfords Teddy Fleece Duvet Set from Online Home Shop.
Lighting candles is another great way to add some warmth to your home.
They instantly add a cosy atmosphere to any room whilst also providing heat and light.
I've been using candles more to save on energy bills instead of using lights.
But I was also pleasantly surprised at the heat they actually provided too.
Other warm wardrobe essentials I love are knitted hats, thermal gloves, wooly scarfs and hooded coats/jackets.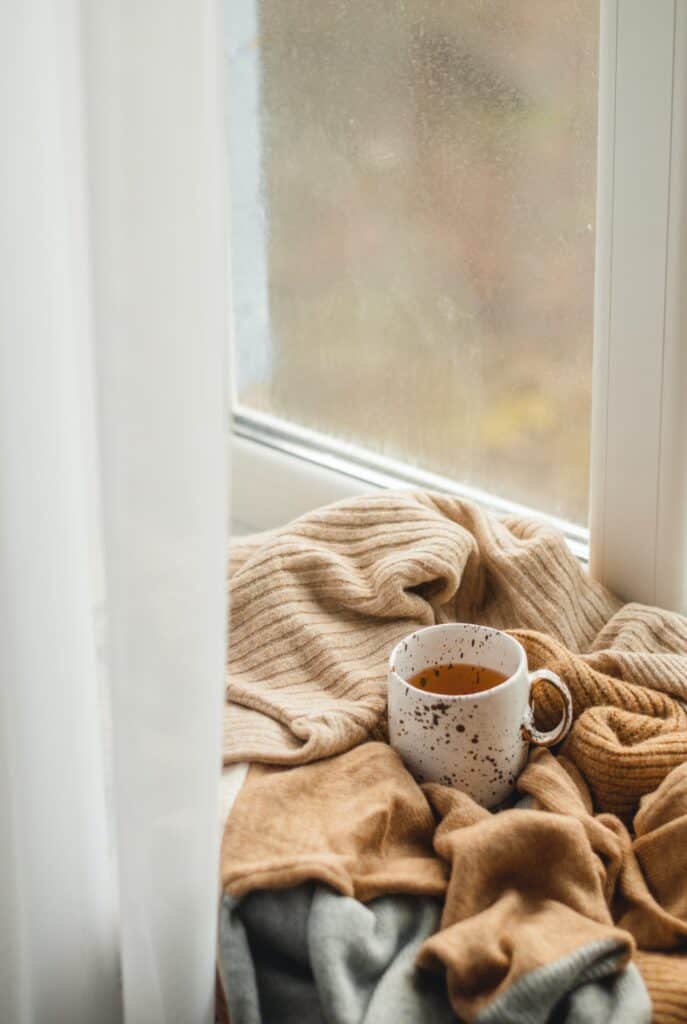 6. Do Less, Rest More
During the colder months it feels natural to slow down and have the urge to do less.
That's because we are meant to.
If you think about it everything in nature slows down during autumn and winter.
Lots of animals go into hibernation, plants and trees fall into dormancy and as we are part of nature, we should be doing the same.
As I previously mentioned our bodies are working harder and using more energy to keep us warm.
So it makes sense that we would need to rest more and and start doing less.
It is a prime time for us to indulge in early nights, hot baths and practise self care at a much slower pace.
I've been doing this a lot recently and I have to say it has been having an incredible impact on my overall mood and mindset.
I feel much more comfortable and at ease letting go of my to do lists and just going with the flow.
It is important for us to move with pace of the seasons and not battle against them.
Surrender to this slower time of year and I promise you life will feel much richer and fuller.
7. Herbs & Spices
There are many herbs and spices that are great to start using this time of year.
They all have wonderfully unique health benefits and can also be comforting for seasonal sniffles.
My favourites winter spices are:
Turmeric
Ginger
Cinnamon
Cardamon
Allspice
Nutmeg
These are great to add into curries, soups, and stews.
My favourite winter herbs are:
Rosemary
Coriander
Sage
Bay
Thyme
Lavender
These work well in everything from cooking to herbal teas and essential oils.
Final Thoughts
Hopefully these winter wellness essentials will help you to stay well and happy throughout the following months.
I'd love to hear what your winter wellness essentials are?
Drop a comment below to share yours and together we will have the ultimate winter wellness toolkit.
| Related: 30 Plants Foods To Diversify And Boost Your Nutrition Health
| Related: The Key To Getting Better Sleep
| Related: The Ultimate Self Care Practise