This post may contain affiliate links. Disclosure here.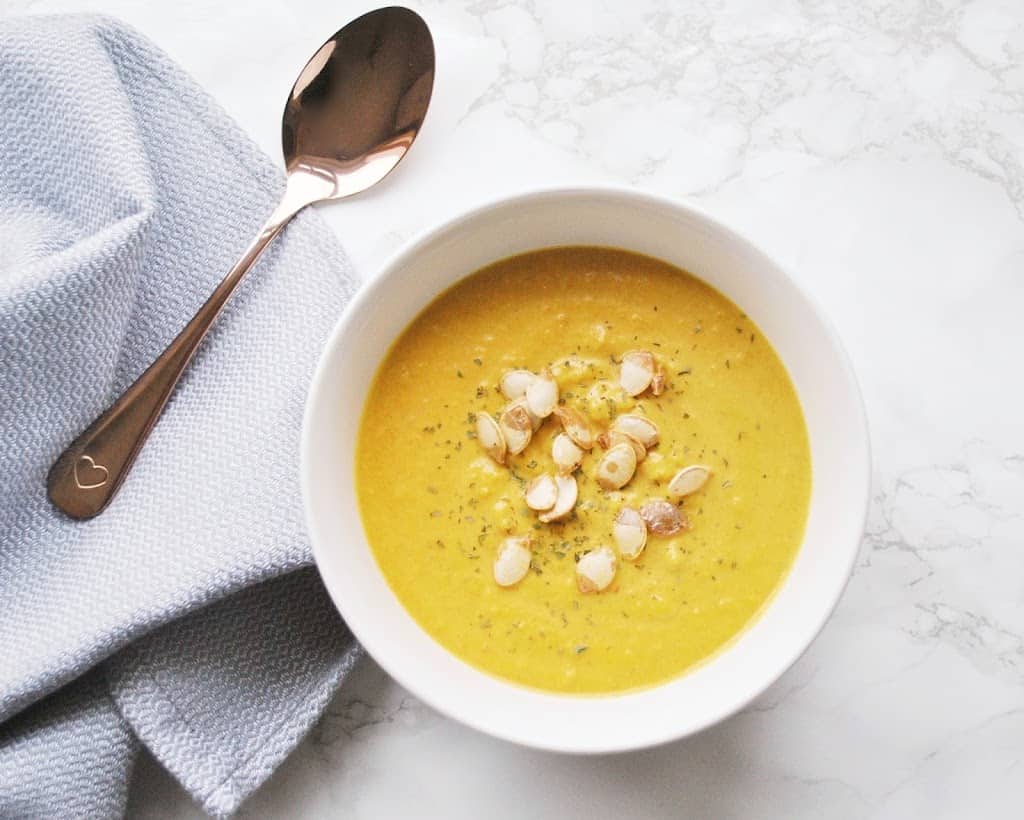 Halloween has been and gone, but afterwards I was wondering what to do with the pumpkins I had left over.
It seemed only right to make good use of them and so I decided to make a sweet and spicy pumpkin soup.
Never having made this soup before I wasn't sure what to expect but I was very pleasantly surprised. It's also super easy to make!
Below is the list of ingredients I used followed by the method.
Ingredients
1 small pumpkin
1/2 cup coconut milk
1/2 cup water
1tsp Turmeric Powder
1tsp Paprika Powder
1-2 tsp Apple Cider Vinegar (I use this one)
1 tbsp Honey
Pinch of Chilli Flakes
Pinch of Coriander
Drizzle of Oil
Salt to taste
Method
Preheat the oven to 180c (fan)
Cut the pumpkin into quarters and scoop out the middle discarding the stringy flesh but keeping the seeds to one side.
Using a potato peeler remove the skin from the sections of pumpkin, then cut the pumpkin flesh into cubes.
Place the cubes of pumpkin on a baking tray with a drizzle of oil and roast for 30-40 mins.
Once cooked leave the pumpkin to cool for a few minutes before adding it to a food processor along with 12 cup of coconut milk and blend together.
Place the pumpkin seeds on a tray and roast in the oven for 10-15 mins.
Pour the pumpkin and coconut milk blend into a saucepan and add the remaining ingredients, heat on a low light stirring occasionally.
Sprinkle the pumpkin seeds and coriander over the soup to serve.
Hope you like the recipe and enjoy the soup as much as I did. I still have 2 pumpkins left so will be cooking up another recipe soon!
Thanks for reading, I hope you enjoyed the post!
FAQs
Is pumpkin soup healthy?
Pumpkins are packed with vitamins, minerals and antioxidants. They are full of healthy nutrients are can improve your immune system, heart and skin health.
What part of pumpkin do you use for soup?
Flesh. The flesh part is attached to the hard skin and can be cut into chunks for cooking. Discard the stringy part. Pumpkin seeds can also be eaten and taste great roasted with a pinch of salt.
Is pumpkin good for blood pressure?
Pumpkin contains potassium which helps to control blood sugar.