This post may contain affiliate links. Disclosure here.
Are you ready to try something new? Looking for active hobbies to help you make new friends?
Are you interested in exploring a new side to yourself and ready to discover some hidden talents?
That's exactly how I was feeling just a few years ago when I decided to try some new hobbies.
When I was growing up I didn't have any hobbies, interests or many friends.
There was nothing I was excited to try or get involved with and I just assumed that was the way it would stay.
Fast forward to being in my early 30s and I suddenly found myself wanting to try out a ton of new activities.
I honestly believe that in your 30s you gain a new lease of life that takes over.
In 2019 I tried so many new things!
I took an acrylic painting course, I went bouldering, I tried pole fitness and I even took my first solo trip.
I had a new found zest for life that I hadn't had before and I was loving making so many new friends.
It's for this very reason that I wanted to put together some ideas of hobbies that can help you to make new friends.
Hopefully in this post you will find some inspiration for active hobbies to help you make new friends.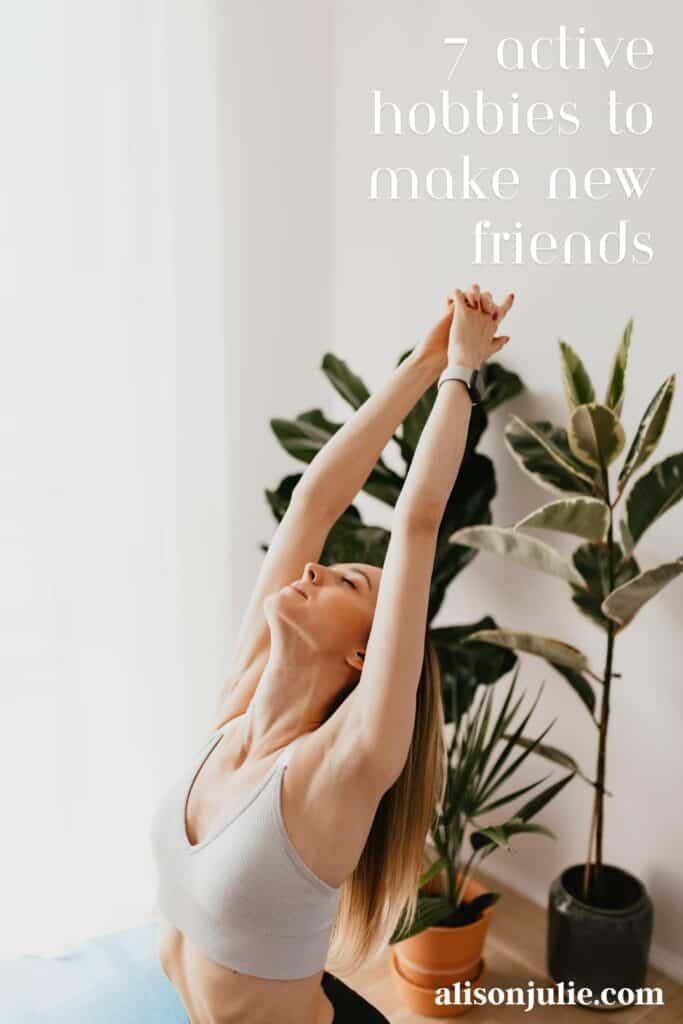 Yoga
Yoga has become incredibly popular in the past few years.
With it's popularity growing rapidly over of time, it seems that the many UK covid lockdowns got more people doing home work outs.
This included many people trying yoga for possibly the first time.
I'm someone who has dipped in and out of yoga over the past 10 years.
I've practised many times by myself at home, followed a youtube video or gone to a variety of in person classes.
Personally I find the in person classes more inspiring and fulfilling as you get the whole experience on a more personal level.
However if you'd like to start at home first then I can highly recommend Yoga With Kassandra on Youtube.
Her videos are for all levels including beginners and are very easy to follow.
Also, take it from me, you absolutely don't need to be flexible to be able to enjoy yoga.
Yoga is more about learning the mind/body connection and focussing on your breathing flowing with the movements of your body.
There are so many different types of yoga that you could try:
Vinyasa Yoga
A type of yoga focussed on the flow of movement with breath. The practise aims to bring synchronicity to the poses and breath.
Hatha Yoga
This focusses more on the physical aspect of yoga. Designed to bring balance to your mental and physical energy.
Ashtanga Yoga
This is usually practised without music where the student will move through a variety of poses at their own pace.
Power Yoga
A less spiritual form of practise and more active with quicker transitions through poses. It aims to work all muscle groups and feel more similar to a workout.
Restorative Yoga
This is one of my favourites! A very deeply relaxing and meditative type of yoga in which only a few poses are practised but held for much longer periods of time. This is a great one to do before bed!
Prenatal Yoga
Prenatal focusses on relaxation, breathing techniques, and self care whilst aiming to gently relieve joint/hip/back pain during pregnancy.
Aerial Yoga
This is one I would love to try! Practised with the help of silk hammocks suspended from the ceiling you get an aerial aspect as you perform each pose.
Yin Yoga
Another one of my personal favourites where the poses are held for longer and the aim is to increase circulation and flexibility.
Bikram Yoga
Hot yoga with very structured sessions and rules. Must be practised in a space that is 105° Fahrenheit with 40 percent humidity.
Acro Yoga
A newer form of yoga practised with a partner. One acts as a "base" while the other acts as the "flyer" performing poses and transition in the air on the feet and hands of the "base".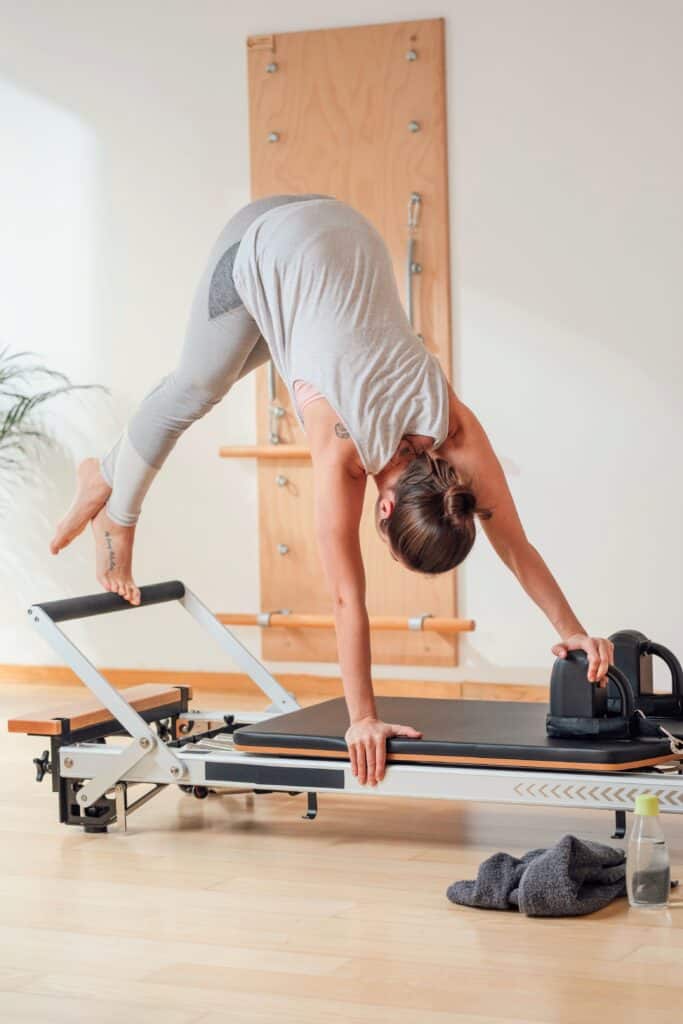 Pilates
Similar to Yoga, Pilates is an exercise based on using your own body weight while holding poses to improve flexibility and full body strengthening.
I used to practise Pilates weekly and really enjoyed going to classes.
It's a great way to exercise without impact, quick transitions or high intensity.
When practised in a group setting this can be a great way to meet new people and help make new friends.
Many local gyms will offer Pilates classes and this is a great way to give it a go, learn more about it and meet new people.
If you would prefer to try Pilates at home first then I can recommend Lottie Murphy's yoga videos on Youtube as a great place to start.
As with Yoga, Pilates has a few different types that you could try:
Classic Pilates
Originally developed by Joseph Pilates, this can be done on a mat or with a reformer machine. It follows a particular set of movements with transitions. It slowly increases from a foundation level to a more complex style of movement.
Reformer Pilates
Carried out with machines called "reformer" this is taught under the supervision of a trained instructor in a fitness studio setting. Classes can usually be booked as a group or an individual 1-2-1 session.
Mat Pilates
Practised on a large cushioned mat without the use of any equipment. A popular type of Pilates that is often practised in the comfort of your own home.
Contemporary Pilates
This is a personal favourite of mine as it combines Classical Pilates with any of the other types to create a hybrid. Often performed with other equipment such as dumbbells, gym ball, resistance bands etc.
Clinical Pilates
Carried out by a trained Physiotherapist with the aim to strength and stabilise specific muscles or certain areas that need assistance.
Stott Pilates
This is focussed on restoring the bodies natural spine curvature while strengthening the surrounding muscles. Often used after surgery or injury.
Winsor Pilates
Focusses on reducing weight around the abdomen while enhancing metabolism. It also focusses on breathing techniques with physical movement.
Aerial Hoop
Aerial hoop has grown in popularity over the years, with more studios popping up across towns and cities.
My journey with Aerial hoop started around a year ago and it very quickly became my favourite activity.
For anyone that isn't familiar, aerial hoop is performed on a large metal circular hoop suspended from the ceiling.
The movement performed by someone on a hoop is a form of acrobatics and is a great way to increase strength and flexibility while having fun.
While you can buy your own hoop for use at home, I highly recommend learning from trained professionals first.
Sessions can be booked in groups or individual 1-2-1 lessons.
Group classes are a great way to meet like minded people and make friends.
It can be a very fun social activity that can help grow your confidence as much as your hoop skills.
Pole
Pole is an activity that is becoming more and more popular over recent years.
With so many versatile pole classes to take and the strength gains, it's not hard to see why!
I started my pole journey back in 2019 when I tried it for the first time and loved it.
Fast forward the years and I now have my own pole in my living room and love training right at home as well as in studio classes.
It's honestly been one of my favourite active hobbies to help make new friends.
Most pole studios offer group classes at all levels from beginners to higher intermediate and also 1-2-1 lessons.
There are a few different types of classes, some are more focussed on fitness, strength and conditioning.
Other classes can be more focused on the dance element. This can range from slow flow type movements or more exotic dance with pole heels.
I've tried most types of classes and have really enjoyed them all.
I will also add that the pole community is a great way to meet new people, make friends and have fun while gaining strength, flexibility and new skills.
Bouldering
Bouldering is an exciting and challenging type of rock climbing that can be done indoors or outdoors.
It's a great way to stay active, build strength, and challenge yourself in a fun and supportive way.
Whether you're looking for an escape from everyday life, a way to get fit, or just something new to try, bouldering is the perfect activity.
When starting out as a beginner, it's easy to learn the basics and begin your journey into the world of bouldering.
An added bonus of bouldering is that it has a great community aspect and can be a really fun way of meeting new people and making friends.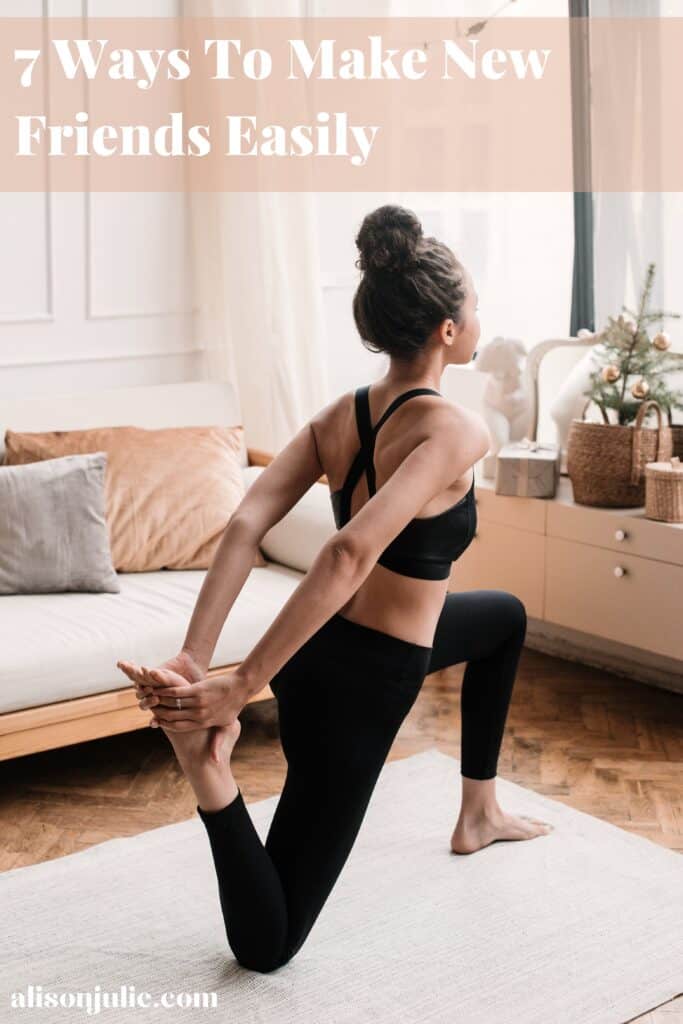 Join A Dance Class
Dancing is such a great way to stay physically fit, have fun and express yourself.
Joining a dance class can be a great way to learn new moves, make new friends and increase your self-confidence.
It can also help you become more creative and explore different styles of movement.
Whether you want to learn salsa, hip-hop or ballet, there are plenty of classes available for all skill levels.
Not only will you get the opportunity to learn from experienced instructors.
You will also make friends with like-minded people who share the same passion as you do.
So if you're looking for a fun and rewarding activity to help you stay fit while having lots of fun, then joining a dance class is definitely worth considering!
Running
This is one of the most popular active hobbies to help you make new friends!
Running is a versatile hobby that you could do on your own, with a friend or even in a group.
There are so many opportunities to make friends through running these days.
Local running groups are very popular and meet regularly to run together on set days and times.
This is so beneficial to anyone who is wanting to start a simple active hobby.
And one that you can easily make new friends while doing.
Check out your local facebook groups, gyms or shops and post offices.
These types of local businesses often have flyers or advertisements for running clubs.
Running in groups is such a great way to keep fit while socialising and even helps to keep up momentum.
Final Thoughts
Hopefully there has been a few things here that have sparked an interest for you.
If you decide to try any of these active hobbies to help you make new friends, please let me know how you get on.
Have a few suggestions of your own active hobbies that helped you to make new friends?
Then please share in the comments below.
| Related: 9 Creative Hobbies That Can Make You Money
| Related : 13 Of The Most Relaxing Hobbies To Do At Home