This post may contain affiliate links. Disclosure here.
It's beginning to look a lot like Halloween, so I decided to spend a bit of time in the kitchen this weekend making some Halloween treats!
I'm so in love with these cookies, they are so light and sweet and I don't feel guilty about eating them as I know they are made with amazing ingredients.
I've had lots of questions on my Instagram about how I made these cookies, so I thought I would write a really quick post sharing the ingredients and method.
They are honestly so quick and easy to make. The recipe is based on the Chocolate Bats and Cats recipe by Deliciously Ella however, I changed it up slightly to work for the type of cookie I wanted.
Ingredients
Cookies:
2 tbsp Coconut Oil
2 tbsp Cashew Butter
2 tbsp Maple Syrup
120g Buckwheat Flour
Icing:
2 – 3 tbsp Coconut Cream
1 tsp Maple Syrup
Chocolate to decorate:
1 tsp Almond Butter
1 tsp Coconut Oil
1 tsp Maple Syrup
1 tsp Cacao Powder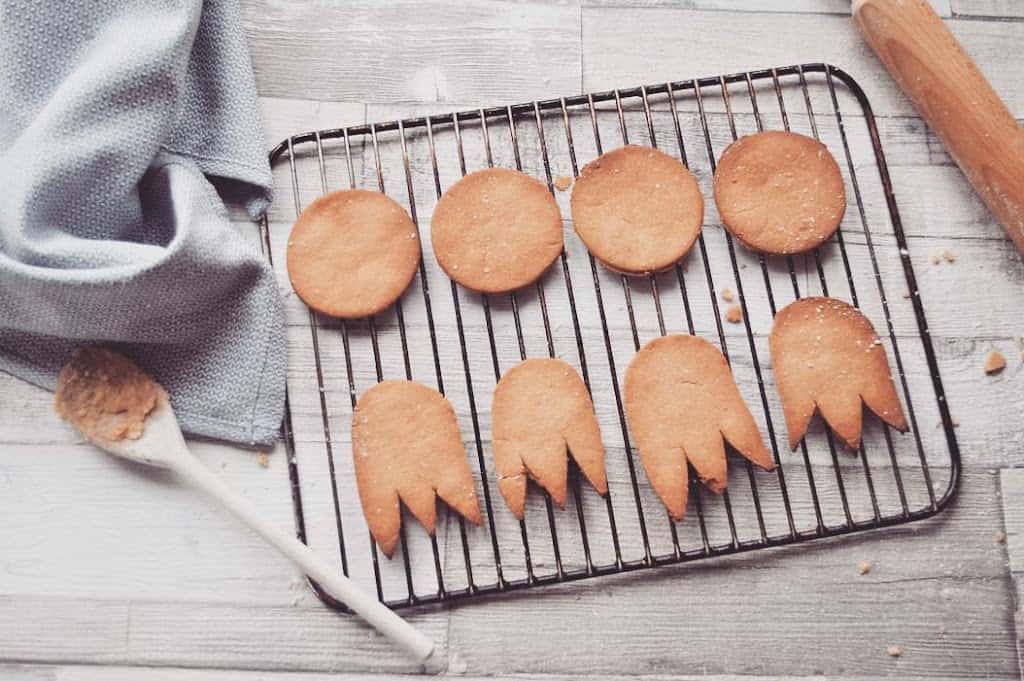 Method
Preheat the oven to 180c (fan)
Melt the coconut oil, cashew butter and maple syrup together on a low heat. Next add in the buckwheat flour and mix until the mixture forms a dough.
Roll out the dough and start cutting out your halloween shapes using your choice of cookie cutters or free hand using a knife.
Place on a baking tray lined with greaseproof paper and cook in the oven for about 10 minutes. Check the cookies often to avoid burning as the mixture cooks quite quickly.
Once cooked leave the cookies out on a wire rack to cool completely. While the cookies cool you can start making the icing.
Mix 2-3 tbsp of coconut cream in a bowl with 1 tsp of maple syrup. Using a spoon or knife carefully spread the cream over each cookie then leave in the freezer for around 10-15 minutes to set.
Next, to make the chocolate, melt the almond butter, coconut oil, maple syrup, and cacao powder in a pan on a low heat and then leave to cool for a few minutes to thicken slightly.
Take the cookies out of the freezer and start decorating your halloween shapes with chocolate. For this I used a very thin pointed knife to draw the ghouls faces.
After this you can either keep them stored in the fridge or eat them straight away.
And voila there you have your healthy vegan Halloween cookies!
I hope this is helpful to those wanting to make their own cookies and as always thank you for reading this post.
Happy Halloween Baking!